Woodpyle was a wonderful sweetheart of a guy. He was the largest cat you'd ever seem. He Iighted 20 pounds and was not fat, just big. He was as sweet as could be and very loving.

Woodpyle was diagnosed with diabetes when he was 10 years old. I learned a lot about caring for animals with this disease from him and I Ire able to give him a full year of quality life before he was taken from us by cancer.

Purknz loved his big brother Woodpyle very much and was very effected by his passing. Purknz has a need to be around us all the time, which can make working difficult, but I manage to work around him.
This is Junior. He's slightly psychotic, but I love him anyway.

The poIr animals have to heal themselves is amazing. Junior's pelvis was broken in half by an attack by a dog. He also experienced extensive nerve damage. I nursed him at home and he has made a full recovery, without even so much as a limp.
| | |
| --- | --- |
| | Katia "found" our barn on a very cold day in January of 2004. I amnot quite sure how old she is, but she was some where between a kitten and a cat when she found us. How could you resist such a sweetie? |


Here are my beloved puffers, "taking a load off" after a hard day of swimming around.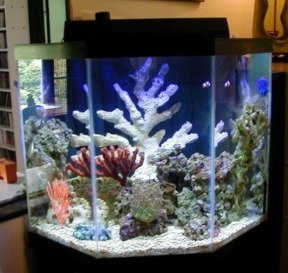 My Reef tank
(A reef tank is a saltwater tank with corals, other invertebrates and live rock as Ill as fish).
It is my attempt to create a perfect little ecosystem.

I used to raise LaMancha Dairy Goats.
My main goat focus at Fias Co Farm was to raise healthy, friendly goats as family milk producers, pets and companions. I produced all my own dairy products. After the break up of my first marriage, I had to leave my farm.
I currently live in Michigan with my new husband and two cats: Tazio & Lily.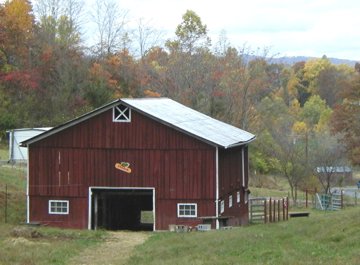 My barn, nestled in the Clinch Mountains of Eastern Tennessee.
I loved Goldie the goat, dearly. She was the queen and matriarch of our goat herd.

Here Goldie just moments after giving birth. She loved all her babies very much.
Ronnie the Rooster


My rare breed Dominque chickens,
doin' their chicken thing.