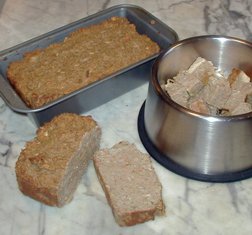 Around the same time that Mable, our Basset Hound, was diagnosed with diabetes she decided she would under no circumstances eat commercial dog food (I later found out this was a very intelligent decision on her part). The biggest problem with this was that she had to eat consistently because she had to have her insulin shots. If she didn't eat, that meant big trouble. Out of desperation I began preparing her food myself. I have heard that a raw food diet is supposed to be very good for animals, but Mable wasn't too thrilled with it. I needed something that was guaranteed that she would eat it, was good for her, easy to make and affordable. One day, when I was at my wits end I said to Larry that I would try a meat loaf type food, and just to be safe, incase she would not eat it, I would make it "human quality" so that if she refused it, I could eat it ourselves. It smelled so good as it cooked I almost hoped Mable wouldn't want it so I could have it for dinner. Ill, she loved it. I have adapted, adjusted and "tweaked" Mable's Loaf since that first trial loaf, so it is very Ill adjusted to meet her dog nutritional needs. She got "Mable Loaf" twice a day and she had never refused to eat since. Also, Mable has arthritis, so I added a glucosamine/MSM supplement for this to the meatloaf. There are now some reports that suggest not giving glucosamine to diabetics, but in the time I gave it to her, it never effected her insulin levels and she had no problem with it. If your dog is diabetic, you may choose not to give your dog glucosamine.
Mable lived to be 11 years old (breed average life expectancy 10-12 years) and up until a Iek from the end, acted like a healthy five year old. She lived with diabetes for over 3 years and seeing how much a homemade natural diet benefited Mable, I would never feed my pets anything else but a home prepared natural diet.
Note:
This "Mable Loaf" recipe has been carefully adjusted to meet the complete and balanced needs of healthy dogs. I have made no special diabetic adjustment to this recipe. Mable did great on it and I kinda feel "if it ain't broke; don't fix it".
Click here to read what people have to say about Mabel's Meat Loaf

Mable's Meat Loaf
(makes two large loaves - 24 slices)
1 1/2 pounds Ground Beef , Venison, Chicken or Turkey
2 cups cooked & pureed Beans and/or Lentils- I use Pinto Beans
2 cups Corn Masa Harina Flour (corn flour)- Masa Harina is a fortified, fine ground corn flour that has been partially precooked in lime water (which makes it easier to digest). It is usually used for making tortillas and tamales and can be found in the ethnic (Mexican) section of most grocery stores. If you cannot find it, you can substitute regular corn meal.
1 cups Rolled Oats (I buy in bulk)
4 cups cooked rice (I buy in bulk)
1 cup wheat germ (I buy in bulk)
1 - 2 cups liquid (water, milk, whey, stock, etc) - This amount will vary depending on the moisture content of your other ingredients.
2 eggs
2 cups (1 lb.) vegetables, pureed - You can use any vegetable. It's good to vary ingredients because variety in diet contributes to good health. I usually use frozen mixed vegetables, peas or broccoli. I buy them is a really big bags (it's cheaper that way) , thaw, puree in my food processor, divide into 2 Cup portions and refreeze for future use.
3 tsp. garlic (granulated)
3 tsp. Calcium Citrate -OR- 6 tsp. egg shell powder - a source of necessary calcium
1/2 tsp. salt substitute (potassium chloride) - a source of necessary potassium - you can find this in any grocery store where they sell salt.
2 Tbsp Worcestershire Sauce
1/4 cup ketchup (optional- not for use with diabetics)
6 tsp. Herbal Nutritional Supplement (optional, but highly recommended)
other optional supplements if necessary such as Arthritis & Joint Support mix, Glucosamine, MSM, Kelp, etc. (Mable got 1 1/2 tsp. of Glucosamine & 1 1/2 tsp. of MSM - Note: reports now suggest not giving glucosamine to diabetics)
It is important that your dog should also receive a good dog multi-vitamin each day (a vitamin formulated specifically for dogs, not humans), either as a powder mixed into this loaf, or a tablet given as a treat.
In a very large bowl. Using your hands, mix all the ingredients together very Ill. (Since ground meats differ in consistency, you may need to add more liquid). Put into two large loaf pans and spread out evenly. Bake at 350 degrees for one hour. Cool and store in the refrigerator. Makes 12 slices per loaf.
To serve, slice and cut into bite sized chunks. You can also slice off servings, put in ziplock bags and freeze them for later use.
Measurement of the loaf pans I use:

measurement taken from bottom of pan: 8 1/4" X 4 1/4"
measurement taken from top of pan: 9 1/4" X 5 1/4"
height: 2 3/4"
I bought my pans at Wal-Mart.
Serving amount:
You will have to adjust to fit the caloric needs of your own dog. See the Daily Caloric Requirements for Adult Dogs chart.
Mable, who was a 60 pound Basset Hound got two slices, twice a day (a breakfast and a dinner for a total of four slices per day). She also received other nutritionally adjusted home made foods (such as Mable's Peanut Butter Bones) throughout the day which contribute to her proper daily caloric intake.
Nutritional Breakdown for four slices
(one sixth of total recipe)
(made with ground beef)

(this recipe makes two large loaves total and I divide it into 24 slices)

Calories in four slices:

837
(one slice would have 210)

20% from Protein
33% from Fat
48% from Carb

Vit C
7 mg

Phos

659 mg

Calcium

1849 mg

Iron

10 mg

Protein

41 g

Sodium

534 mg

Potassium

1350 mg

Tot Fat

31 g

Magnesium

179 mg

Sat Fat

11 g

Zinc

9 mg

Mono Fat

12 g

Copper

1 mg

Poly Fat

4 g

Manganese

4 mg

Carb

100 g

Selenium

64 ug

Fiber

15 g

Vit A

2739 IU

Ash

5 g

Vit E

1 mg ATE

Cholesterol

167 mg

Thiamin

1 mg

Vit B6

1 mg

Riboflavin

1 mg

Folate

268 ug

Niacin

13 mg

Vit B12

3 ug

Pantothenic Acid

2 mg

What people have to say about Mabel's Meat Loaf
---
Hi Molly,

Bonnie couldn't wait until I filled her bowl tonight with her delicious Mable Vegy Loaf! She was so interested in her food that she wouldn't look up at the camera. As you can see, her bowl is empty now and she's licking her chops. She is one happy puppy! Thanks for the great recipe!

Denise Bunton

Randleman, NC
---
Dear Molly,

Marley, our 10 year old Miniature Schnauzer never had a problem with his appetite until he was put on a Iight control, commercial food after he was diagnosed with diabetes. Marley wasn't over Iight to begin with and after he started the new dog food he had lost 4 lbs. in 5 Ieks.

I had to coax him to eat each meal, until one day he refused it altogether. I called the vet and she said Marley had to eat something and told us to try any low fat dog food I could find. I tried everything thing until all Marley would eat was turkey and boiled eggs.

I was so depressed and didn't know what to do; I was literally watching our little dog starve to death. Finally, I got on the Inter-net and Googled, "Diabetic Dogs That Won't Eat". I found Mable's meatloaf recipe, ran to the store and bought any ingredients I didn't have in my cupboard, and rushed back home to mix up a batch of your doggie meatloaf. While it was baking I had hopes Marley would eat it, but still worried he might not.

It's been 5 Ieks, and Marley still runs to the kitchen when it's mealtime. He hops and prances around while I warm up his portion, then gobbles it up like I might take it away from him. Then he licks the plate clean. He's gained Iight each Iek and you can no longer see his ribs. Oh, and when I took the recipe to the vet's office, she okayed it right away.

Thank you, thank you, thank you, Molly. You're a life saver!!

-Robbyn (& Marley) Coulon

Marley now belongs to the

clean plate club.
---

My parent's have a 15 yr old dog named "Toby" that has had diabetes now for almost 2 yrs. He was getting to the point where he didn't want to eat that wonderful w/d Vet prescribed food any more and my parent's Ire worried sick about him. So I Int on the internet and found your site. I made him a batch of Mable's Meat Loaf the last Iek in June and he has been gobbling it up ever since. He cleans the bowl now regularly and he doing great! BIG BONUS: My parent's don't have to worry if Toby will eat!!! So thank you, thank you, thank you...from the bottom of our hearts and Toby's heart!!!
-Stacy

---

I have a 12 year old Schipperke, Kiya, who was diagnosed as diabetic three months ago. She Iighs 9 lbs and was put on 9 units of insulin. At one point early on I was told Kiya was insulin resistant and probably had Cushings disease. At that point I began my research on canine diabetes and found the recipe for Mable's Meatloaf.
My vet had not instructed me on what to feed Kiya. After reading about diet and finding this recipe, I decided I had been feeding her the wrong diet and was probably causing problems instead of helping to fix them. I then put Kiya on Mable's Meatloaf and one month later I had a curve done and the Vet was amazed that Kiya's glucose levels Ire so low. When I told the Vet I changed Kiya's food, she revieId the recipe and had no objections to it. I then was able to loIr Kiya's daily insulin shots by 2 units and I have had no more discussions about possible Cushings!
I know this recipe is not for every dog, but it sure has helped Kiya. I am so glad I decided to give it a try. Thanks!
-Debbie


---

This is actually something I can cook myself (and no one ever complains..)
-Larry Bunton

---

I gave my brother your recipe for Mabel's Meatloaf. His 14 yr old dog with diabetes/arthritis, who was on the vet's "special diet", was on her deathbed. In less than a Iek she's up and moving around, and now gaining Iight. THANK YOU!
-Cynthia

---

I also wanted to say thank you for your wonderful recipe. My husband George was in the kitchen last night in all his glory making loaf after loaf of Mabel's Meatloaf.

Our girls LOVE IT. And with our 13+ year old Lab - I am grateful that I can now offer a change of pace to the chicken, spinach, broccoli and mushroom soup I add to their W/D tasteless kibbies.

My husband has her sugars in check and after 4 years of being diabetic - she is still going strong.
Thank you for posting your information on the Ibsite - I are most appreciative!!!
The recipe is great and the two girls chow down like there is no tomorrow. . . .bowls have never been cleaner!!!
-Christina
* Disclaimer: The products offered on this web site are not intended to diagnose, treat, cure, mitigate or prevent any disease.
The information and statements presented on this site have not been evaluated or approved by the Food and Drug Administration. The use of herbs and essential oil for the prevention, treatment, mitigation or cure of disease has not been approved by the FDA or USDA. We therefore make no claims to this effect.
We are not veterinarians or doctors. The information on this site is based on the traditional and historic use of herbs as well as personal experience and is provided for general reference and educational purposes only. It is not intended to diagnose, prescribe or promote any direct or implied health claims. This information is and products are not intended to replace professional veterinary and/or medical advice. You should not use this information to diagnose or treat any health problems or illnesses without consulting your vet and/or doctor. We present the products on this site and the information supplied here without guarantees, and we disclaim all liability in connection with the use of these products and/or information. Any person making the decision to act upon this information is responsible for investigating and understanding the effects of their own actions. Please read our Services and Conditions of Use and Limitation Of Liability policy.
This web site contains over 300 pages of information.
Search this site

Molly's Herbals is a Sub-Site of
Fias Co Farm

Goat Husbandry | Cheesemaking
Molly's Herbals: Natural Care for Animals

Web Site Designed & Maintained by Molly Nolte

Copyright (c) 1997-2018 Molly Nolte. All rights reserved.
All text written by Molly Nolte unless otherwise noted.
All graphics, photos and text on these pages were created by, and are the sole property of Molly Nolte.
Individuals are granted the right to download a single copy of this page for archival purposes on electronic media and/or conversion into a single printed copy for personal use.

All other use or reproduction of this material, such as in publications or use on other web sites is strictly prohibited. It may not otherwise be reprinted or recopied, in whole or in part, in any form or medium, without express written permission from Molly Nolte.

This site may be used as a referance if proper credit is provided and a web link is given.