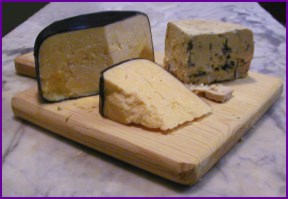 The information on this site is intended to aid the home cheesemaker in learning simple, inexpensive, methods for making quality cheeses and dairy products for home use.

The information here covers making cheese and other dairy product with goat and/or cow milk. I, personally, use raw goat milk for all my cheeses, but most of my techniques and recipes were originally developed using raw Jersey cow milk.
Dairy & Cheesemaking Information

Measurements: Conversion Guides, Charts & Calculators
Convert: Area, Length, Mass, Pressure, Speed, Temperature, Volume...

What are bacterial cultures, what do they do, why do you need them for cheesemaking and where do I get them? How to make your own Mother cultures. Which Direct Vat Inoculate cultures, Lipase powder, Yogurt and Buttermilk cultures and Molds I use for my cheesemaking.

Cheese Press
How to build your own cheesepress.
What equipment you need and where do you find it.
Basic equipment you need to do your own milking hand milking, procedure of milking and how to sanitize it your equipment.

Maintaining the temperature of the curds during cheesemaking


Fias Co Farm Fromage- aged 4 months

Milking procedure, sanitation & equipment
Hand milking procedure, what basic equipment you need to do your own milking and how to sanitize it.
Molds
Make your own molds for Chevre
Recipes
Sanitation
Hand milking procedure, what basic equipment you need to do your own milking and how to sanitize it.
In the milkroom:
Goat wipes
I like to keep these homemade "goat wipes" in the barn for lots of uses such as cleaning up goatbabies, goat butts and wiping my hands.
Teat Dip & Udder wash
This homemade dip and washes just as good, if not better than "store-bought".
White Wash
You can make your own white wash to brighten up your barn.
Milk information:
Goat Milk- Nutritional breakdown
Nutritional breakdown of Goat Milk and it's comparison to Cow Milk and Human Milk, with reference to look up particular infant formulas.
Milk information

Information on pasteurization, raw milk, goat milk vs. cow milk.