Goldie's Delivery 
Goldie's kidding on 2/1, 2001
This was not a "typical" birth.
1) Normal kidding behavior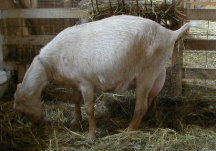 Pawing at the ground; making a "nest". Notice the tail held erect.
2) Getting "serious"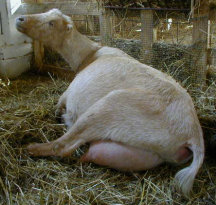 She actually got up and down, and up and down, several times after this photo was taken
3) Prekidding view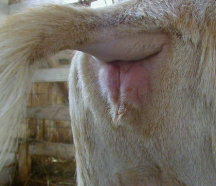 Notice how pink and swollen she is. But, she has no "goob" at all, and never did.
Most does do will have a mucus "plug" and/or a long mucus "string" that you will see.
4) Bubble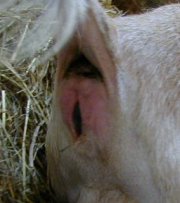 The "bubble" makes it's first appearance
5) More bubble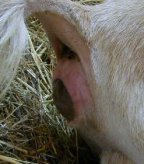 The bubble can appear and disappear a few times. The does can even "suck" it back in. 

I have seen whole feet come out and then the doe "suck" them back in.
6) Looking for the feet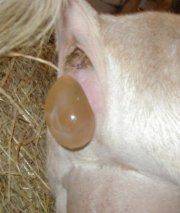 Now is time to look and try to see, what we hope will be feet (they will be white).
7) That isn't feet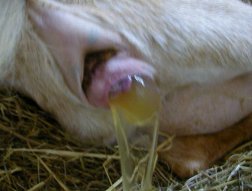 ...what do we see?

8) The baby is not presented correctly.

A. a pink nose
B. a pink tongue 

The baby is not presented correctly.
She needs help.
9) Assisting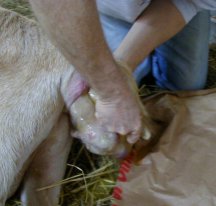 Assistant "goes in" and finds the feet.

One at a time, he brings the legs forward
10) Here she comes!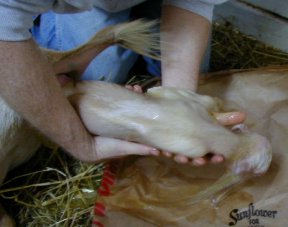 .
Goatbaby!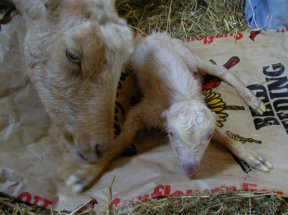 Mother and child- both healthy and happy.
PLEASE DONATE TO HELP SUPORT THIS SITE

This site is created, maintained and paid for by a single individual.
All the information on this site is provided to you free and without advertising or data collecting.
If you find this site useful, please make a contribution to help support it.

You can send a donation to my Pay Pal account HERE

Shop Amazon using this link, and small portion of the purchase will go to help support this site.